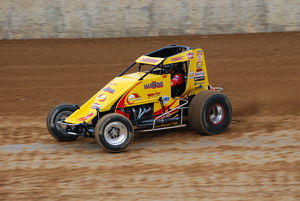 A Consistent Night for Tracy Hines in Midwest Opener at Lawrenceburg
By Tracy Hines Racing PR 
New Castle, Ind.—April 7, 2013— Tracy Hines looked to pick up where he left off in Florida in February, as the USAC Amsoil National Sprint Car Series made their 2013 Midwest debut on Saturday, April 6 at Lawrenceburg Speedway in his home state of Indiana and did exactly that to open the night as he set fast time in qualifying. A consistent heat race run and feature finish would help the 2002 series champion remain in the top-five in points following the 30-lap main event.
 
A stout field of 40 entries was in attendance at the state-of-the-art three-eighths-mile located in the southeast corner of Indiana. Hines turned a lap of 13.966-seconds in the Hansen's Welding Inc. DRC with a Stanton Mopar under the hood to earn his first fast time honor of the season, besting the 38 drivers that took qualifying laps. The native of New Castle, Ind., would finish third in the first eight-lap heat race to earn a spot in the 30-lap main event.
 
Hines rolled off sixth in the A-Feature and gained a spot early and was running fifth when the red flag was displayed on the eighth circuit. He would work his way to fourth during the first half of the race, before finishing 12th. In four starts with the USAC Amsoil National Sprint Car Series in 2013, Hines has finished 12th or better in each and every one.
 
"The night started off great in time trials," said Hines. "It didn't end quite how we were hoping, but that's racing. You have to take the good with the bad and move on. I think we learned a few things that will help us throughout the season and with the level of competition right now, you definitely have to be on your game throughout the whole night and have some luck on your side as well."
 
The veteran driver is currently fifth in the USAC Amsoil National Sprint Car Series standings, just 12 markers out of fourth and 31 points out of the lead. He has a pair of wins this season and is the only driver to have multiple victories thus far. The next scheduled USAC Amsoil National Sprint Car Series event is on Saturday, April 20 at the famed Eldora Speedway in Ohio, where Hines won twice with the series in 2012.
 
"I'm looking forward to Eldora in a couple of weeks," he shared. "We had a great set-up there last year and seem to always run well there. It's still early in the season and we are in a good spot right now. We'll work on a few things in the shop leading up to that race and see if we can get just a little quicker. We definitely have a great qualifying package right now and we'll work on race set-up a bit leading up to that one."
 
Hines will return to action next weekend with the USAC National Midget Series in the inaugural Kokomo Grand Prix at Kokomo Speedway in Indiana. That event will serve as the opener for the USAC National Midget Series Dirt Championship, with a tentative schedule of 22 races currently set to determine that champion for 2013. A separate pavement title chase for the midgets is comprised of eight races.
 
"Kokomo has always been a great track for midgets and we've always seemed to run pretty well there," Hines noted. "A two-day show is great, especially for the fans. It's always good to have new events dot the schedule, especially bigger events like that one. The three-night sprint show (The Sprint Car Smackdown) was pretty successful last year, so hopefully the Grand Prix is as well."
 
Tracy Hines Racing would like to thank: Hansen's Welding Inc., Parker Machinery, Motor City Auto Transport, Turbines, Inc.,Afco Racing Products, Daum Crop Insurance, Schoenfeld Headers, Allstar Performance, Kenny's Components, Race Bumpers and Bell Racing.
 
For more information on Tracy Hines Racing, visit http://www.tracyhinesracing.com. Follow Tracy on Twitter atwww.Twitter.com/TracyHinesRacin.