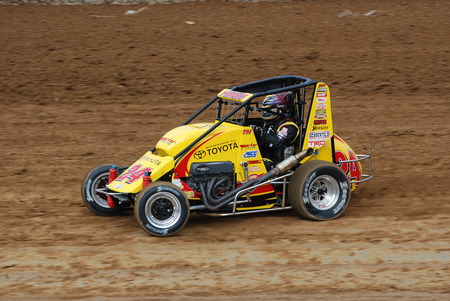 A Full Week of Racing for Tracy Hines in Illinois & Indiana
By Tracy Hines Racing PR
NEW CASTLE, Ind.— July 2, 2013— Originally, Fourth of July week was going to feature just feature a pair of races for the Honda USAC National Midget Series at Belle-Claire Speedway in Illinois, giving competitors a chance to celebrate Independence Day before heading to the track. After Mother Nature interrupted the Hut Hundred at Tri-City (Ill.) Speedway at the end of May and a USAC Amsoil National Sprint Car Series contest at Lincoln Park (Ind.) Speedway back in April, those two contests were rescheduled for this week, making it a busy week for Tracy Hines and his fellow USAC competitors as they will compete four times in four nights at three different tracks, with the already slated two-night event at Belle-Claire Speedway in Illinois on the docket.

Hines opens the stretch of races on Wednesday, July 3 at Tri-City Speedway in Pontoon Beach, Ill., for the running of the historic Hut Hundred aboard the Parker Machinery/Powered by Toyota Spike. He then heads to Lincoln Park Speedway in Putnamville, Ind., on July 4 for an event with the USAC Amsoil National Sprint Car Series in the Hansen's Welding Inc. DRC. The weekend will see the two-night Bash at Belle-Claire for the USAC National Midget Series Dirt Championship on track at Belle-Claire (Ill.) Speedway on Friday, July 5 and Saturday, July 6.
"We've certainly been battling the weather all season, and it's always good to have races rescheduled," said Hines. "It's been a busy week no doubt, getting back from Pikes Peak and making sure everything is ready for the four races this week. For the fans in Indiana and Illinois the next few weeks are going to be good ones for them as they'll get to see the midgets and sprint cars race quite a bit."
Last season at Tri-City Speedway, Hines won the opener of the Gold Crown Midget Nationals, leading all 25 laps of the preliminary main event. The win was the second of his career in a midget at Tri-City, which is a three-eighths-mile that began life as a half-mile and was that configuration for many years. In the finale of the 2012 Gold Crown Midget Nationals, Hines finished ninth, with the second night of the three-night event rained out. The veteran driver won the Hut Hundred in 2001, when it was held at the Terre Haute Action Track.
"We're used to going to Tri-City (Speedway) later in the year with the midget, so we'll have to adjust a little to compensate for the warm summer weather," he shared. "The Hut Hundred is such a great event and to see 33 midgets line up three-wide, is pretty cool. We won one of the nights there last year, so hopefully we can use some of what worked in that race and carry that momentum into this week."
The veteran driver has two career victories at Lincoln Park Speedway with the Honda USAC National Midget Series. He finished fourth earlier this month during Indiana Midget Week at the high-banked, 5/16-mile. He made one appearance in a sprint car last year at Lincoln Park Speedway with the USAC Amsoil National Sprint Car Series, with that start coming during Indiana Sprint Week. Hines has a pair of sprint car wins this season.
"Having run the midget at Putnamville (Lincoln Park Speedway) should help going back this week," he noted. "That's a place we only race a time or two a year at, so you have to really stay up on the track and what it's doing throughout the night. We finished up the Eastern races on a strong night, so we look to pick where we left off there in the sprint car."
Belle-Claire Speedway is a fifth-mile dirt oval and the smallest track the Honda USAC National Midget Dirt Championship will race on all season. The Bash at Belle-Claire Speedway will be co-sanctioned by the USAC National Midget Series and the POWRi Lucas Oil National Midget Series. Hines has competed in one co-sanctioned race this season, finishing third at Angell Park Speedway in Wisconsin, on June 24.
"At a tiny place like Belle-Claire, the key is to keep your nose clean," explained Hines. "Things happen so quick and we will be in traffic for most of the race, so you really have to really be smart picking your spots and try not to force the issue too much if you don't have to. We don't race on too many tracks that small anymore, so it will be a good challenge for sure."
In six races with the USAC National Midget Series Dirt Championship this season, Hines has four top-10 finishes, which has him sixth in points. With the USAC Amsoil National Sprint Car Series, the 2002 series champion is seventh in the standings.
Tracy Hines Racing would like to thank: Hansen's Welding Inc., Parker Machinery, Motor City Auto Transport, Turbines, Inc., Afco Racing Products, Daum Crop Insurance, Schoenfeld Headers, Allstar Performance, Kenny's Components, Race Bumpers and Bell Racing.
For more information on Tracy Hines Racing, visit http://www.tracyhinesracing.com. Follow Tracy on Twitter at www.Twitter.com/TracyHinesRacin.