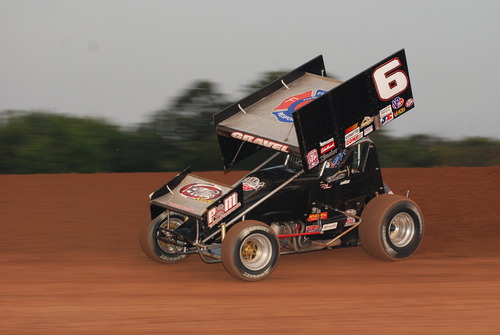 David Gravel Heads North of the Border for a Trio of Races
By DDR Motorsports PR
WATERTOWN, Conn.—July 26, 2013— David Gravel vividly remembers the last time he raced in Canada — that's because he was victorious. The win came last year with the UNOH All Star Circuit of Champions at Red River Co-op Speedway in Winnipeg, Manitoba. This season, competing full-time with the World of Outlaws STP Sprint Car Series, the 21-year-old will run a total of five nights north of the border at four tracks in three provinces, beginning with a trio of races over a four-day span this weekend.

The three-race stretch opens for Gravel aboard the FMR Racing/JRC Transportation/Musco Fuel/Model Craft J&J on Saturday, July 27 at Autodrome Drummond in Drummondville, Quebec. Action then shifts to Cornwall Motor Speedway in Ontario, on Sunday, July 28. The first Canada Swing of the season wraps up on Tuesday, July 30 with the running of the Arrow Express Cup at Ohsweken Speedway, also in Ontario.
"This year will be the most we have ever raced in Canada and we are really looking forward to it," said Gravel. "I was fortunate enough last year to win in Canada with the All Stars and we've been running pretty good on the smaller tracks this year and that's what the three this week are. There are a lot of great sprint car fans in Canada and hopefully we put on a good show for them each and every night."
Autodrome Drummond hosted the World of Outlaws STP Sprint Car Series for the first time in 2010. In three races at the semi-banked, four-tenths-mile three different drivers have been victorious. Gravel has raced a couple of times on tracks that size in 2013. He finished fifth last week in the finale of the Don Martin Memorial Silver Cup Twin 30s at Lernerville (Pa.) Speedway. The native of Watertown, Conn., also competed at The Dirt Track Charlotte in Concord, N.C., in May.
"Autodrome Drummond sounds like a momentum-type race track," said Gravel. "We had a pretty good run in the second race at Lernerville last week, despite having quite a bit of damage to the car from earlier in the night, so we'll look to use a few of the things that worked there this weekend. We don't race on too many tracks that size each year, but you always want to learn all that you can, so that you are ready for the World Finals in Charlotte at the end of the year."
The World of Outlaws STP Sprint Car Series made their debut at Cornwall Motor Speedway last year. Cornwall is a high-banked, quarter-mile bullring located in the northeast corner of Ontario. Ohsweken Speedway, which is owned by sprint car racer Glenn Styres, hosted the series for the first time in 2007. The series has returned to the three-eighths-mile every year since, with the event getting completely rained out in 2008. Gravel has seven top-10 finishes this season on tracks that size, including a win at I-94 Speedway in Minnesota, back in May.
"We've visited a lot of new tracks this year, so adding three more to the list will be nothing new," Gravel noted. "I've heard some great things about the tracks we are headed and am excited to see them for myself. We'll walk around each track when we get there and then compare it to somewhere we've been in the past and look back at some of our notes for a point of reference and to give ourselves a baseline to start the night on."
Gravel recently wrapped up the second East Coast Swing of the season with the World of Outlaws STP Sprint Car Series with three top-10 finishes in five starts. As mentioned, he was fifth in the second Twin 30 at Lernerville and also was in the top-10 at Lebanon Valley (N.Y.) Speedway and Rolling Wheels Raceway Park in New York.
Gravel makes the trek to Canada seventh in the World of Outlaws STP Sprint Car Series standings. Along with his win, the young driver has 23 top-10 finishes, with seven of those being top-five runs.
Keep up-to-date with David Gravel and DDR Motorsports by visiting www.DavidGravel89.com. Follow David on Twitter @davidgravel89g and like David on Facebook.