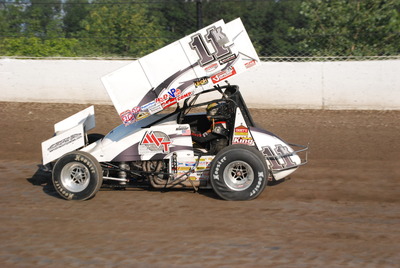 Kraig Kinser Heads to I-55 for the Ironman 55
By Kraig Kinser Racing PR
BLOOMINGTON, Ind.—August 1, 2013— There are only two events all season in which Kraig Kinser and his fellow World of Outlaws STP Sprint Car Series counterparts get to race 50 or more laps. One is next week when the series invades the famed Knoxville Raceway for the FVP Knoxville Nationals, and the other is this weekend, when the best sprint car drivers in the world tackle the high-banked bullring in Pevely, Mo., for the longest event of the season, the Ironman 55.

The Ironman 55 weekend will begin on Friday, August 2 at Federated Auto Parts Raceway at I-55 and conclude on Saturday, August 3, with the fifth running of the Ironman 55, which pays $20,000 to the winner.
"The Ironman is a pretty unique event," said Kinser, who pilots the Mesilla Valley Transportation/Casey's General Store/King Racing Products Maxim. "I'm glad it's back to a two-night show this year, especially for the fans. It's usually pretty hot down at Pevely, so you have to make sure to keep plenty of fluids in yourself and watch how long you are out in the sun during the day. Racing 55 laps definitely takes a lot of concentration at a place like Pevely and really tests your equipment as well."
The native of Bloomington, Ind., finished fifth in two main events, including the Ironman 55 at Federated Auto Parts Raceway at I-55 last season. Both of those features took place on October 14, after the Ironman 55 was rained out, just as the feature was lining up, and the spring race earlier in the year was rained out and rescheduled for the fall. Kinser was victorious for the first time at the high-banked, one-third-mile bullring in 2005.
"I've always enjoyed racing at Pevely and we've had a good amount of success there over the years," he noted. "Last year we were fast at the Ironman and were all ready for the feature when the rain came. When we returned in the fall we were fast again and were in the top-five in both features, which was great. Hopefully we can pick up right where we left off this time around."
Last year, Kinser was fastest in time trials for the Ironman 55 and finished fifth in the first heat race to earn a spot in the dash. He finished seventh in the dash, which gridded him on the inside of the fourth row for the main event, and he moved up a spot when the sixth-place starting driver did not return for the completion of the Ironman 55 in the fall. In the main event, Kinser would run all 55 laps, crossing the finish line in fifth.
In the nightcap, the third-generation driver timed in sixth and finished fourth in his heat race to earn a spot in the A-Feature. He lined up 13th and finished fifth, steadily working his way forward in a caution-plagued 40-lap main event, that saw the yellow and red flags fly a total of seven times. To date, he has eight top-10 finishes at the track, with five of those being top-five performances. Kinser has finished sixth or better in each of his last four starts Pevely. The spring event this year for the World of Outlaws STP Sprint Car Series at the high-banked bullring was rained out and not rescheduled.
"That was a lot of racing for sure last fall, but the weather cooperated and we had a really good surface for both shows," said Kinser. "The track crew at Pevely usually works the surface a couple of times over the course of the race event and it's worth waiting a few extra minutes for them to do that. There will be a lot of good cars there, so like always, getting qualified and in the dash and starting up front will be important, especially in the 55-lapper, as you want to be on the lead lap in the late going."
Kinser raced twice in Canada over the last week, finishing third at Autodrome Drummond in Quebec on July 28 and 11th at Ohsweken Speedway in Ontario on July 30. He was also scheduled to race at Cornwall Motor Speedway, but that event fell to rain and was not made up.
The 2005 winner of the Knoxville Nationals is currently 13th in the World of Outlaws STP Sprint Car Series championship standings. He has one win this season to go along with 23 top-10 and eight top-five finishes.
Kraig Kinser Racing would like to thank Casey's General Stores, Mesilla Valley Transportation, King Racing Products, Maxim, Aerodine Composites, Sander Engineering, Integra Shocks, All Star Performance, FK Rod Ends, Brown & Miller Racing Solutions, Bell, KSE Racing Products, ButlerBuilt, Schoenfeld Headers, Donovan Engineering, Fel-Pro, Brodix, Wilwood, Dyer's, Barnes Systems, Ringer Gloves, Jakes Custom Golf Carts, and Ben Cook Racing Limited for their continued support.
Kraig Kinser By the Numbers: Federated Auto Parts Raceway at I-55
0.33- Miles around Federated Auto Parts Raceway at I-55
2- Nights of racing that comprise the Ironman 55 weekend
4- Consecutive top-10 finishes at Federated Auto Parts Raceway at I-55
5- Career top-five finishes at Pevely
8- Career top-10 finishes at Federated Auto Parts Raceway at I-55; Top-five finishes this season through July 30
10.189- Track record at Federated Auto Parts Raceway at I-55
12.3- Average finish in 17 main events starts at Pevely
17- Main event starts with the World of Outlaws at Pevely
23- Top-10 finishes this season with the World of Outlaws STP Sprint Car Series
30- Laps scheduled for the main event at Federated Auto Parts Raceway at I-55 on Friday, Aug. 2
55- Laps in the Ironman 55 on Saturday, Aug. 3
740- Miles from Ohsweken Speedway in Ohsweken, Ontario, Canada, where the World of Outlaws raced on July 30 to Federated Auto Parts Raceway at I-55 in Pevely, Mo.
2001- Year of first start at Federated Auto Parts Raceway at I-55
2005- Year of first win at the Pevely
2009- Year of the first Ironman 55
6044- Points earned this season through July 30
Keep up with all the action
For the latest news on Kraig Kinser, visit http://www.kraigkinser.com, and follow Kraig on Twitter at http://twitter.com/kraigkinser11k and receive live updates from the track each and every race night.