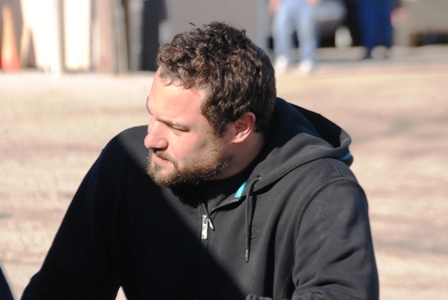 Kraig Kinser Tackles Salina Highbanks Speedway
By Kraig Kinser Racing PR
BLOOMINGTON, Ind.—April 25, 2013— There are very few tracks on the World of Outlaws STP Sprint Car Series circuit that are as steeply banked as Salina Highbanks Speedway in Oklahoma. In fact, they can probably be counted on just one hand. Kraig Kinser has raced on a number of high-banked tracks over the course of his career and one of those is Salina where he'll continue a stretch of races in the Midwest with the World of Outlaws STP Sprint Car Series this weekend.
Kinser will hit the track in the Casey's General Store/Mesilla Valley Transportation Maxim at Salina Highbanks Speedway in Salina, Okla., on Friday April 26, for a full race program, beginning with hot laps, followed by heat races, a dash and an A-Feature event. In the case of a weather-related postponement, Saturday, April 27, has been reserved as the rain date.

The third-generation driver will be making the second start of his career at Salina Highbanks Speedway, a three-eighths-mile in Northeastern Oklahoma. He made his debut at the venue in 2011 with the World of Outlaws STP Sprint Car Series, racing his way through the B-main to earn a spot in the 30-lap main event.
"Salina is a very fast track," said Kinser. "That's a place where you really get your momentum going with the banking and it's a horsepower-type track for sure. It's been a couple of years since we've been there and obviously we have different tires heading there this time, so we'll use what we believe is a good baseline and go from there."
Kinser, who has competed at four different tracks in his career in Oklahoma, raced for the first time in the Sooner State in March of 2002 at the former State Fair Speedway in Oklahoma City, setting fast time. He made four starts at the historic track early in his career. The 2004 Kevin Gobrecht Rookie of the Year Award winner also set fast time in the World of Outlaws debut at Outlaw Speedway in Muskogee in 2005. Kinser finished third in the series inaugural visit to Tri-State Speedway in Pocola in 2010, marking his best-career finish in the state. He has made seven starts in his career with the World of Outlaws in Oklahoma.
"There have been a lot of World of Outlaws races over the years in Oklahoma and there are some great fans out in that area," he shared. "I haven't raced a ton out that way, but the few times I have, we've had some good runs and I definitely enjoy going to parts of the country like that, that we don't get to visit very often."
The originally scheduled event for the World of Outlaws STP Sprint Car Series on Saturday, April 27 at Federated Auto Parts Raceway at I-55 in Pevely, Mo., was cancelled due to rising flood waters in the area and will not be made up. The series will return to the high-banked bullring, Aug. 2–3 for the Ironman 55.
"We always look forward to racing at Pevely, so it's unfortunate that the weather didn't cooperate this time around," shared Kinser. "The Ironman 55 weekend is back to two nights of racing this year, so those are a couple of races we'll have circled on the calendar come August."
Kinser is currently ninth in the World of Outlaws STP Sprint Car Series championship standings on the strength of eight top-10 and three top-five finishes. Entering this weekend's race, the native of Bloomington, Ind., has finished eighth or better in three of his last four starts, including a pair of fifth-place finishes at El Paso Speedway Park in Texas and Kings Speedway in California.
Kraig Kinser Racing would like to thank Casey's General Stores, Mesilla Valley Transportation, Maxim, Aerodine Composites, Sander Engineering, Integra Shocks, All Star Performance, FK Rod Ends, Brown & Miller Racing Solutions, Bell, KSE Racing Products, ButlerBuilt, Schoenfeld Headers, Donovan Engineering, Fel-Pro, Brodix, Wilwood, Dyer's, Barnes Systems, Ringer Gloves, Jakes Custom Golf Carts, and Ben Cook Racing Limited for their continued support.
Kraig Kinser By the Numbers: Salina Highbanks Speedway
0.375- Distance around Salina Highbanks Speedway in miles
1- Race in the state of Oklahoma this season for the World of Outlaws STP Sprint Car Series
2- Fast time awards at World of Outlaws events in Oklahoma during career
3- Top-five finishes thus far in 2013
7- Career World of Outlaws starts in Oklahoma
8- Top-10 finishes this season
9- Position in the current series standings
11.9- Average finishing position in A-Feature events this season
531- Miles from Tri-State Speedway in Haubstadt, Ind., where the World of Outlaws raced on April 20 to Salina Highbanks Speedway in Salina, Okla.
1978- Points earned through April 20
2011- Year of first start at Salina Highbanks Speedway
23,105- Dollars earned through April 20
Keep up with all the action
For the latest news on Kraig Kinser, visit http://www.kraigkinser.com, and follow Kraig on Twitter at http://twitter.com/kraigkinser11k and receive live updates from the track each and every race night.