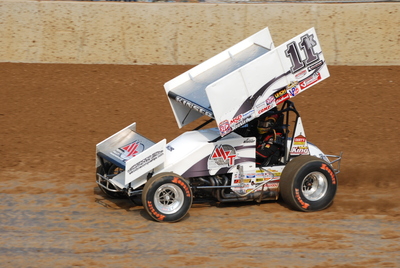 Kraig Kinser Takes on Attica & I-96 Following Seventh-Place Run at Lawrenceburg
By Kraig Kinser Racing PR
BLOOMINGTON, Ind.—May 30, 2013— Versatility on a wide range of tracks is a skill that Kraig Kinser has acquired over the years competing with the World of Outlaws STP Sprint Car Series. One night he may be racing on a tight, high-banked, bullring and the next night on a sprawling and wide-open big track. That will be the case this weekend as the series makes its annual appearances at Attica Raceway Park in Ohio and I-96 Speedway in Michigan.
Kinser heads first to Attica Raceway Park for the Kistler Engines Classic on Friday, May 31, piloting the Casey's General Store/Mesilla Valley Transportation Maxim. The series then travel northwest for their only race of the year in Michigan, as they invade I-96 Speedway on Saturday, June 1 for the NAPA Auto Parts Rumble in Michigan. This season the event will be contested on the half-mile version of the track located in Lake Odessa, Mich., versus the inner three-eighths-mile that was used last season.

Kinser last competed at Attica Raceway Park in 2011, as last season's event fell to rain and was not rescheduled. The third-generation driver has made four starts in his career with the World of Outlaws STP Sprint Car Series at Attica Raceway Park. He finished a career-best ninth at the third-mile in 2009. Kinser has raced at the Ohio oval in four different seasons in his World of Outlaws career.
"There always is a lot of good cars at Attica, so you really have to be on your game there," said Kinser. "We only race there once a year so that makes hot laps even more important to make sure you are dialed in for those two laps in time trials. It's usually pretty racy at Attica and things happen in a hurry, especially in the feature. We haven't done as well on the smaller tracks this year as we were hoping, but we have some good notes for Attica and a solid baseline to start from and have been gaining consistency the last few weeks."
Kinser finished 10th at I-96 Speedway last season on the inner three-eighths-mile that was utilized. It marked his fourth career top-10 finish at the track, with the three previous coming on the half-mile configuration, which will be the track the series races on this year. Kinser made his first start at I-96 in 2004 and finished fourth the following season. He scored a podium finish at the track in 2009
"I've always enjoyed racing on the half-mile at I-96 (Speedway) and am glad we are back on the big track this year," he noted. "It was different last year racing on the smaller track and kind of challenging as well. I-96 is a good place to really let a sprint car stretch its legs and the fans really seem to enjoy seeing the pure speed of the cars there."
Kinser finished seventh on Memorial Day at Lawrenceburg Speedway in his home state of Indiana. He started the night as the fourth-fastest qualifier of the 37 entrants. He finished fourth in the fourth 10-lap heat race to earn a spot in the 35-lap main event. Kinser started 11th in the A-Feature and after falling back a few spots at the stark methodically worked his way forward.
He broke into the top-10 on a lap-14 restart and was running sixth when the final caution flag of the night flew with six laps remaining. Prior to heading to Lawrenceburg, the native of Bloomington, Ind., competed in the Circle K NOS Energy Outlaw Showdown at The Dirt Track at Charlotte, finishing 21st.
"The car really came on late in the race at Lawrenceburg and we were able to make up quite a bit of ground and had a solid finish," Kinser stated. "We just missed getting in the dash and it is tough starting in the middle of the field with these guys. The competition is so tough and when you get to the top-10 or so cars everyone is so fast. We've been working hard in the shop this week and hopefully we can continue to build some momentum."
With a total of 27 races in the books thus far in 2013 for the World of Outlaws STP Sprint Car Series, Kinser is 11th in points, on the strength of one win and 12 top-10 finishes, with four of those being top-five showings.
Kraig Kinser Racing would like to thank Casey's General Stores, Mesilla Valley Transportation, Maxim, Aerodine Composites, Sander Engineering, Integra Shocks, All Star Performance, FK Rod Ends, Brown & Miller Racing Solutions, Bell, KSE Racing Products, ButlerBuilt, Schoenfeld Headers, Donovan Engineering, Fel-Pro, Brodix, Wilwood, Dyer's, Barnes Systems, Ringer Gloves, Jakes Custom Golf Carts, and Ben Cook Racing Limited for their continued support.
Kraig Kinser By the Numbers: Attica Raceway Park & I-96 Speedway
0.333- Miles around Attica Raceway Park
0.5- Distance in miles around I-96 Speedway
1- Race in the state of Michigan this season for the World of Outlaws
2- Top-Five finishes at I-96 Speedway
4- Top-10 finishes at I-96 Speedway; Career main event starts with the World of Outlaws at Attica Raceway Park
7- Career main event starts at I-96 Speedway
8- Nights of racing currently scheduled for the World of Outlaws in Ohio this season
11- Current position in the World of Outlaws STP Sprint Car Series championship standings
11.7- Average finish at I-96 Speedway in seven main event starts
12- Top-10 finishes earned this season through May 27
16- Average finishing position in four main event starts with the World of Outlaws at Attica
25- Laps led in A-Feature evens thus far in 2013
218- Miles from Lawrenceburg Speedway in Indiana, where the World of Outlaws raced on May 27 to Attica Raceway Park in Ohio
231- Miles from Attica Raceway Park, where the series competes on May 31 to I-96 Speedway in Lake Odessa, Mich.
2004- Year of first start at I-96 Speedway
2005- Year of first World of Outlaws start at Attica Raceway Park
3231- Points earned through May 27
43,580- Dollars earned through May 27
Keep up with all the action
For the latest news on Kraig Kinser, visit the redesigned http://www.kraigkinser.com, and follow Kraig on Twitter at http://twitter.com/kraigkinser11k and receive live updates from the track each and every race night.
Tune in
Listen live to each and every World of Outlaws event on DIRTVision.com with "The Voice of the Outlaws" Johnny Gibson on the call. Visit www.DIRTVision.com for live audio of each and every World of Outlaws Sprint Car Series event.