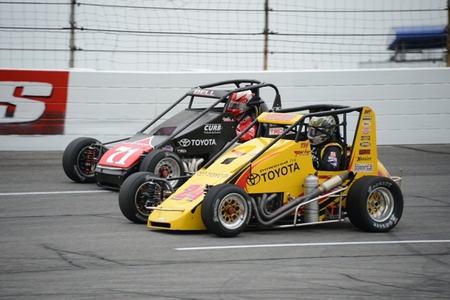 Silver Crown & Midget Doubleheader for Tracy Hines at Pikes Peak
By Tracy Hines Racing PR
NEW CASTLE, Ind. — June 27, 2013— Some tracks just suit a driver and their driving style. For veteran Tracy Hines one of those places is Pikes Peak International Raceway in Colorado. He not only has a pair of wins in two different types of cars at the one-mile oval, but he's also the track record holder in the USAC Traxxas Silver Crown Series, setting that mark in 1999. Hines will return to the venue this weekend for the running of the Rocky Mountain Classic for the USAC Traxxas Silver Crown Series and Honda USAC National Midget Series.

The doubleheader at Pikes Peak International Raceway in Fountain, Colo., is set for Saturday, June 29. The USAC Traxxas Silver Crown Series will take to the track for a 100-lap race, while the Honda USAC National Midget Series Pavement Championship will contest a 25-lap main event.
"It's been quite a while since we raced at Pikes Peak," said Hines. "That's a beautiful facility and it's good to see open wheel racing coming back to the oval, just like at Gateway (Motorsports Park) when we raced there earlier this month. The fans in that area don't our form of racing very often, so hopefully they are able to make it out and we put on a good show for them."
Hines had two career wins at Pikes Peak, which last hosted USAC racing in 2005. The native of New Castle, Ind., scored his first win at the track in 1999 in a 100-lap USAC Traxxas Silver Crown Series event. He returned to Victory Lane at Pikes Peak in 2003 with the USAC Amsoil National Sprint Car Series.
"Pikes Peak is a fast place, especially in a midget," he shared. "You carry a lot of momentum and keep it wound up all the way around. With 100 laps in the Silver Crown race you have to time to work your way forward, but 25 laps in a midget goes by in a hurry, so you really have to be on it from the drop of the green flag."
The most recent two starts that Hines made at Pikes Peak came in a Silver Crown/Midget twin bill in 2005. In the USAC Traxxas Silver Crown Series portion of that event, he was fastest in qualifying of the 39 drivers that took to the track to earn the pole position for the 100-lap race. He led the opening 40 circuits and was running near the front with 30 laps-to-go when a broken driveline ended his day. On the midget side he finished fifth, after qualifying seventh-fastest of the 32 drivers in attendance.
"As a driver you tend to remember the ones that slip away sometimes more than the ones you win," explained Hines. "We definitely had a good set-up the last time we were at Pikes Peak and had a mechanical problem in the Silver Crown race, which was very disappointing. A track never owes you anything, but I feel like we have some unfinished business there."
The USAC Traxxas Silver Crown Series has contested two races thus far in 2013, with the season opener on the dirt at the Indiana State Fairgrounds, where Hines finished third in the Lightfoot Racing No. 16. On the pavement he competed with the series at Gateway Motorsports Park outside of St. Louis earlier this month. He is currently seventh in the USAC Traxxas Silver Crown Series standings, just two markers out of the top-five.
Hines has raced three times with the USAC National Midget Series Pavement Championship in 2013 aboard the Parker Machinery/Powered by Toyota Spike and has finished eighth or better in all three. He ran third in his most recent start at Lucas Oil Raceway at Indianapolis in the Night Before the 500 on May 25. He opened the midget season on the pavement at the half-mile New Smyrna Speedway in Florida with finishes of third and eighth. Hines is currently fourth in points with the series, only 16 markers out of the lead. A total of eight races comprise the 2013 Honda USAC National Midget Series Pavement Championship.
"We don't have that many pavement races this year, so we try to make the most of the ones we have," he noted. "I've had quite a bit of success over the years on the pavement and my first USAC National win came on a paved track at Winchester (Speedway in Indiana), so I've always had an affinity for the asphalt tracks."
Tracy Hines Racing would like to thank: Hansen's Welding Inc., Parker Machinery, Motor City Auto Transport, Turbines, Inc., Afco Racing Products, Daum Crop Insurance, Schoenfeld Headers, Allstar Performance, Kenny's Components, Race Bumpers and Bell Racing.
For more information on Tracy Hines Racing, visit http://www.tracyhinesracing.com. Follow Tracy on Twitter at www.Twitter.com/TracyHinesRacin.