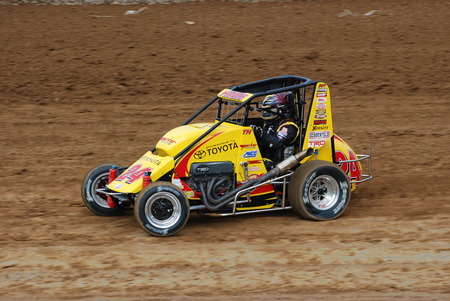 Tracy Hines Earns a Trio of Top-10 Finishes During Indiana Midget Week
By Tracy Hines Racing PR
NEW CASTLE, Ind.— June 17, 2013— Indiana Midget Week has always been pretty good to Tracy Hines. After all, he's a two-time champion of the mini-series in his home state and has won races during the Midget Week in the past. More times than not during Indiana Midget Week, which is sanctioned by the Honda USAC National Midget Series, Hines has finished among the top-10 and that was the case again this year, as he recorded three top-10 finishes in five starts, with two of those being top-five performances aboard the Parker Machinery/Powered by Toyota Spike.
Hines earned his best finish of Indiana Midget Week in the opener at Gas City I-69 Speedway on Wednesday, June 12, coming home second. The native of New Castle, Ind., took the lead on the second lap and would take the white flag out front, when Kyle Larson got a run on the top side of the track and edged him at the line. Hines opened the night as the sixth-fastest qualifier of the 38 drivers on-hand. He finished third in the second heat race to transfer to the 30-lap A-Feature.

"We just got beat, there's no other way to put it," said Hines. "I hadn't seen anyone's nose, so I kept running my line. By the time I saw him (Kyle Larson) we were coming to the checkered flag. It's always tough when one slips away late, especially on the last lap. We gave it everything we had and just came up a little short That's racing."
The second round of the five race mini-series took Hines and his fellow competitors to Lincoln Park Speedway in Putnamville on Thursday, June 13. He would finish fourth to earn his second straight top-five finish to start the week. Hines timed in third-quickest in qualifying with a week-high 45 drivers in attendance. Following a fifth-place run in the third heat race, Hines found himself in the B-main, where he finished second to qualify for the 30-lap main event.
"We don't race a midget at Putnamville (Lincoln Park Speedway) very often, so you have to really keep up with the track throughout the night," he explained. "We had a pretty good car in the feature and finishing in the top-five again showed what we are capable of with our dirt midget program."
Hines ran into trouble during the main event at Bloomington Speedway on Friday, June 14, finishing in the 20th spot, and ending a string of 25 consecutive top-10 finishes during Indiana Midget Week dating back to 2008. At Bloomington, the veteran driver was seventh in time trials and was third in the third heat race to punch his ticket to the A-Feature.
The two-time Indiana Midget Week champion rebounded at Lawrenceburg Speedway on Saturday, June 15, with a 10th-place finish. Hines began the night 22nd in qualifying and finished seventh in the second heat race, which put him in the B-main. He would finish fifth in the B-main to earn a spot in the main event at the high-banked, three-eighths-mile.
Hines concluded the ninth edition of Indiana Midget Week on Sunday, June 16 at Kokomo Speedway. He opened the night by qualifying 14th, with a field of 38 cars assembled. A sixth-place finish in the second heat race sent him to the B-main, where he came home fifth to earn a spot in the 30-lap main event. He lined up 14th for the A-Feature, and ended up 23rd, following a lap-18 spin.
"It was definitely not how we wanted to end the week," said Hines. "We have another midget race on the dirt next weekend, so we'll get the car ready this week and be geared up for that one. The races we qualified well for, we ran up front at, so just like with the sprint car, qualifying is key right now. It's hard to come from the B-main and be in contention every night."
Following Indiana Midget Week, Hines sits ninth in the Honda USAC National Midget Series Dirt Championship standings. The next race for the series is June 23 at Angell Park Speedway in Wisconsin. Prior to that event, Hines will make two starts with the USAC Amsoil National Sprint Car Series at the Terre Haute Action Track in Indiana on June 21 and I-96 Speedway in Michigan on June 22.
Tracy Hines Racing would like to thank: Hansen's Welding Inc., Parker Machinery, Motor City Auto Transport, Turbines, Inc., Afco Racing Products, Daum Crop Insurance, Schoenfeld Headers, Allstar Performance, Kenny's Components, Race Bumpers and Bell Racing.
For more information on Tracy Hines Racing, visit http://www.tracyhinesracing.com. Follow Tracy on Twitter at www.Twitter.com/TracyHinesRacin.