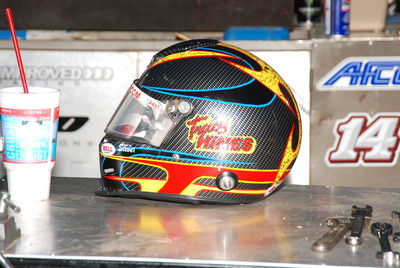 Tracy Hines & Fellow USAC Competitors Bookend Lawrenceburg's Season
By Tracy Hines Racing PR
NEW CASTLE, Ind. — Sept. 26, 2013— Lawrenceburg Speedway in Indiana served as the Midwest opener for the Amsoil USAC National Sprint Car Series back in April and will close that portion of the 2013 campaign for the series this weekend. For Tracy Hines, the event at Lawrenceburg will serve as one of the last two major open wheel events in his home state of Indiana that he will compete this season, before heading west to wrap up the year.

The USAC Amsoil National Sprint Car Series City of Lawrenceburg Fall Nationals at Lawrenceburg Speedway is set for Saturday, Sept. 28 at the state-of-the-art, high-banked, three-eighths-mile. A full racing program beginning with hot laps and time trials will be followed by heat races and a 30-lap main event.
The veteran driver has made three starts at Lawrenceburg this season, with two of those coming with the Amsoil USAC National Sprint Car Series and the other with the Honda USAC National Midget Series. He finished a season-best 10th at the track during Indiana Midget Week. In the spring with the Amsoil USAC National Sprint Car Series, Hines was 12th at the three-eighths-mile, turning the fastest lap in qualifying of the 40 entries, to earn his first quick time award of the season. He also finished 12th in July during Indiana Sprint Week aboard the Hansen's Welding Inc./The Carolina Nut Company DRC.
"We've been pretty fast in the sprint car at Lawrenceburg this year, but haven't gotten the finishes we were looking for," said Hines. "Lawrenceburg is a momentum-type racetrack and we've done well at similar places this year. It would definitely be nice to wrap up the Midwest part of the USAC schedule with a strong run."
Last season, Hines made four overall starts at Lawrenceburg Speedway with three of those coming in a sprint car. He finished seventh at the track located on the Indiana/Ohio border during Indiana Sprint Week and was ninth in the fall during a co-sanctioned USAC/MSCS event. The veteran driver earned his best 2012 Lawrenceburg finish in a Honda USAC National Midget Series event during Indiana Midget Week, coming home fourth. Hines was victorious at the track twice in 2011 in weekly sprint car competition and scored a win with the USAC National Midget Series at Lawrenceburg in 2010.
Last weekend in the 4-Crown Nationals at the famed Eldora Speedway in Ohio, Hines finished third with the Honda USAC National Midget Series. He opened the night as the second fastest-qualifier of the 20 entries and followed that up with a third-place showing the second heat race. In the 30-lap main event for the Amsoil USAC National Midget Series, the 2002 series champion, was leading on the white flag lap when he got upside in turn four and ended up 20th. Hines was running second in the Traxxas USAC Silver Crown Series 50-lapper when he got upside with two laps remaining. He was scored ninth at the finish and wrapped the season up third in points.
"Obviously, Eldora didn't end how we were hoping, but you have to put that out of your mind," said Hines. "We were fast in all three cars and were in a position for a win in two of those races and that's all you can ask for. Racing is definitely not an easy sport and it seems like you have more lows than highs, so when you have the good nights, you certainly have to enjoy them and build on them."
Entering the City of Lawrenceburg Fall Nationals, Hines is sixth in points with the Amsoil USAC National Sprint Car Series. He has won twice in 2013 and has recorded 15 top-10 finishes. A total of five nights of racing remain for the series this season.
Tracy Hines Racing would like to thank: Hansen's Welding Inc., Parker Machinery, Turbines, Inc., Afco Racing Products, Daum Crop Insurance, Schoenfeld Headers, Allstar Performance, Kenny's Components, Race Bumpers and Bell Racing.
For more information on Tracy Hines Racing, visit http://www.tracyhinesracing.com. Follow Tracy on Twitter at www.Twitter.com/TracyHinesRacin.