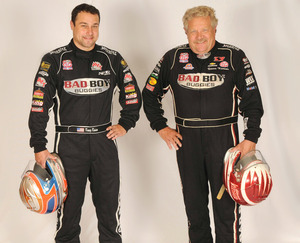 Bad Boy Buggies® Announces Two-Car Team For Knoxville Nationals, DIRTcar World Finals
Leading Off-Road Utility Vehicle Brand To Sponsor Kraig Kinser, Announces 'Win The King's Ride' Fan Program
INDIANAPOLIS (July 11, 2013) – Bad Boy Buggies®, a leader in off-road utility vehicles for hunting and outdoor recreation, announced today a two-race sponsorship agreement with Steve Kinser Racing (SKR) and 2005 Knoxville Nationals champion Kraig Kinser for the 2013 Knoxville Nationals and DIRTcar World Finals events.
Bad Boy Buggies is backed by the resources and capabilities of E-Z-GO and its parent company, Textron Inc., a Fortune 500 manufacturer known worldwide for its powerful brands and products such as Cessna aircraft, Bell helicopters, and Greenlee tools. Bad Boy Buggies is a recognized leader developing models and innovations that have revolutionized the way outdoor enthusiasts use utility vehicles. The brand will serve as primary sponsor on SKR's No. 11k Sprint car driven by the 2004 World of Outlaws (WoO) STP Sprint Car Series Rookie of the Year. Kinser, who along with his father Steve, driver of the Tony Stewart Racing (TSR) TSR's No. 11 Bad Boy Buggies/J.D. Byrider/Chevrolet Performance Maxim, are the only father-son duo to have win the storied Knoxville (Iowa) Nationals.
"We're extremely pleased to be able to have the father/son duo of Steve and Kraig Kinser carry our brand at two of the most high-profile Sprint car races of the season," said Eric Bondy, Vice President, Consumer Business for Bad Boy Buggies. "Our first year partnering with TSR and Steve has been very exciting. We certainly knew of his racing prowess and we couldn't ask for a better representative for Bad Boy Buggies. When the opportunity came up to extend the partnership with Kraig, it was a very easy decision. We're really looking forward to seeing both cars on the track."
Kraig Kinser, who won the 2005 Knoxville Nationals title, will join his father Steve, 20-Time World of Outlaws STP Sprint Car Series champion, as a teammate for the Bad Boy Buggies brand for this year's 53rd annual FVP Knoxville Nationals and the WoO season-ending DIRTcar World Finals. The potent duo will look to deliver the Bad Boy Buggies brand its first Knoxville Nationals championship.
"Any time you add a partner for big races like the Knoxville Nationals and the World Finals, it provides the team a lot of positive reinforcement," Kraig Kinser said. "Bad Boy Buggies is recognized as a leader in the field of outdoor vehicles, and they want to be associated with leaders in Sprint car racing. Obviously, they are already involved with Tony Stewart Racing as my dad's sponsor, so to join them and run similar cars is a great opportunity. Knoxville is such a special place for me. Both because of all the good memories of being there with my dad and seeing him win the Nationals all those years, but also because I was fortunate to win it as well. We're looking forward to hopefully making the Knoxville Nationals a really special event for Bad Boy Buggies as well."
The special-schemed No. 11k Bad Boy Buggies/MVT/Casey's General Stores/King Racing Products will be unveiled during a public ceremony under the grandstands at legendary Knoxville (Iowa) Raceway at noon Tuesday, Aug. 6.
"It's going to be special to have Bad Boy Buggies partner up with both Kraig and myself for the Knoxville Nationals," said Steve Kinser, the 12-time Knoxville Nationals champion. "Eric and his staff have been great to work with all season long and now to have them add Kraig to their group for the Nationals and World Finals continues to strengthen the program."
Bad Boy Buggies looks to continue enabling outdoors enthusiasts of all types with the best vehicle technology, and for recreational riders seeking to tackle the trails to enjoy the outdoors at the highest level. In an effort to engage some of the most brand-loyal fans in all of sports, the company has partnered with TSR and will launch the "Win the King's Ride" program July 11 that will result in one lucky fan winning a one-of-a-kind, Steve Kinser-themed Recoil iS. The campaign kicks off in advance of this Saturday's 30th annual Kings Royal at Eldora Speedway in Rossburg, Ohio.
"I've been involved with several promotions during my career, but this one may be one of the coolest," Steve Kinser said. "Bad Boy Buggies has taken it a step further with this 'Win the King's Ride' promotion, where someone is going to win a package of things, including the customized RECOIL iS. I can tell you whoever wins it is going to be thrilled. I've had mine out on my property and these things are a lot of fun to drive. Obviously, we're really thrilled to be involved with these two really exciting announcements."
Fans can register to win the unique vehicle by clicking on the "Win the King's Ride" link at www.badboybuggies.com, or by completing an entry form by Oct. 11 at any Bad Boy Buggies activation event.
The winner of the "Win the King's Ride" promotion will be announced Oct. 21 and will receive a trip for two to the 2013 DIRTcar World Finals in Charlotte, N.C., courtesy of Bad Boy Buggies, as well as additional prizes from SKR, TSR and Bad Boy Buggies. The winner will be presented the keys to the customized Recoil iS by Steve and Kraig Kinser during the World Finals event and will be a guest of the Kinsers at the 2013 WoO STP Sprint Car Series banquet alongside SKR and TSR Nov. 10 in Charlotte.
More information can be found at www.SteveKinser.com, www.KraigKinser.com or www.BadBoyBuggies.com.