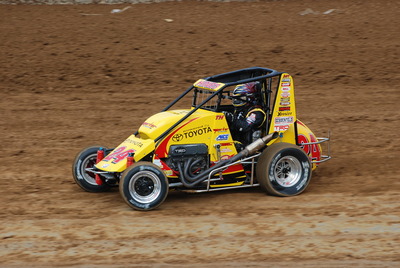 Rolling Right Along: Tracy Hines Finishes Second at Angell Park & Fourth at Springfield
By Tracy Hines Racing PR
NEW CASTLE, Ind.— Aug. 19, 2013— When a driver gets in a groove they usually try to keep things as simple as possible and repeat what has led to that success. Tracy Hines is in the midst of a streak of top-10 finishes in each of the three USAC national series that dates back to last month and he extended that string to 11 consecutive races this past weekend with a runner-up finish during Cornfest at Angell Park Speedway in Wisconsin, with the Honda USAC National Midget Series and a fourth-place effort at the Illinois State Fairgrounds with the Traxxas USAC Silver Crown Series.

In his second start of the season at Angell Park on Sunday, Aug. 18, Hines lined up fourth for the 30-lap main event. After falling back a spot in the early going, he charged back forward and used lapped traffic to his advantage to close in on leader Bryan Clauson in the late going. A caution flag with three laps remaining took the lead pair out of traffic on the final restart. Hines would wind up finishing second in the Parker Machinery/Powered by Toyota Spike.
"You never want to finish second, but we'll take it," said Hines. "I think I was better in traffic than he (Bryan Clauson) was, but I couldn't get off the corner too well, with a right rear (tire) going down. I really never have seen Angell Park like that before, so I just had to move around and try some different lines to be fast. We're close with our dirt midget program and have some more changes in the fall to see if we can get a few wins before the season is over."
The veteran driver opened the night at Angell Park Speedway by turning the third-fastest lap in time trials of the 27 entrants that took to the one-third-mile for the event, which was tri-sanctioned by the Honda USAC National Midget Series, the POWRi Lucas Oil National Midget Series and the Stark Automotive Group/Mid-State Equipment Badger Midget Series. He charged from the sixth starting spot in the third heat race to pick up the win in that 10-lap contest and punch his ticket into the main event, where he lined up fourth.
Hines finished fourth in the Tony Bettenhausen 100 for the Traxxas USAC Silver Crown Series at the Illinois State Fairgrounds in Springfield on Saturday, Aug. 17, piloting the Lightfoot Racing Beast. The 2000 series champion started seventh on the one-mile dirt oval and moved into the top-five in the early going. Hines ran as high as third in the 100-lapper, which took a couple of starts to get going. The final caution flag of the day flew with 19 laps remaining, giving the native of New Castle, Ind., another shot to close in on the lead trio. Hines opened the event by recording the seventh-fastest lap in qualifying of the 18 drivers that posted times.
"It's always a challenge to pass on the mile tracks, especially in day races," said Hines. "We were able to make up some ground early and had a couple of cautions that bunched the field up a bit as well. I think we found a few things that should help us when we go to DuQuoin. We have a couple of races left and we'll keep plugging away."
With his fourth-place finish in the Traxxas USAC Silver Crown Series event, Hines continues to lead the series standings by 10 markers with two races remaining. The series will return to action on Labor Day weekend at the DuQuoin State Fairgrounds in Illinois, with the running of the Ted Horn 100.
In the Honda USAC National Midget Series Dirt Championship points, Hines is third, 43 markers out of second. He has 10 top-10 finishes with the series this season. The versatile driver will return to action later this week at Kokomo (Ind.) Speedway in the Second Annual Sprint Car Smackdown for the Amsoil USAC National Sprint Car Series.
"Over the last few weeks we've raced in each of the USAC divisions and on both the pavement and dirt and really have hit on a few things," said Hines. "We're headed to Kokomo this week and that's one of my favorite tracks and we always seem to run good there, so it should be a fun week. When you are running good you definitely want to race as much as you can."
Tracy Hines Racing would like to thank: Hansen's Welding Inc., Parker Machinery, Turbines, Inc., Afco Racing Products, Daum Crop Insurance, Schoenfeld Headers, Allstar Performance, Kenny's Components, Race Bumpers and Bell Racing.
For more information on Tracy Hines Racing, visit http://www.tracyhinesracing.com. Follow Tracy on Twitter at www.Twitter.com/TracyHinesRacin.