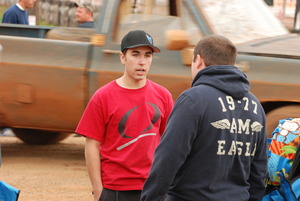 West Coast Swing Rolls on for David Gravel at Stockton & Chico
By DDR Motorsports PR
 
Watertown, Conn.—March 20, 2013 —  It takes some drivers quite a while to get acclimated with many of the tight bullrings in California. That wasn't the case for David Gravel, as he was able to get up to speed pretty quick in his first pair of starts in the Golden State last weekend with the World of Outlaws STP Sprint Car Series. The native of Watertown, Conn., finished fourth in the opener at Thunderbowl Raceway in Tulare and was running near the top-10 when he had a flat tire in the finale, as he continues to fill-in for the injured Bill Rose.
 
Gravel will make another two starts this weekend aboard the No. 6 Fire Text Response Maxim as the World of Outlaws STP Sprint Car Series makes their debut at the new Stockton 99 Dirt Track on Friday, March 22, followed by the Mini Gold Cup at Silver Dollar Speedway in Chico on Saturday, March 23.
 The new Stockton 99 Dirt Track is a semi-banked, three-eighths-mile located at the San Joaquin Fairgrounds. Gravel has raced once this season on a track that size with the World of Outlaws, finishing eighth in the Wildcat Shootout at Tucson International Raceway in Arizona. Last season, he competed a number of times on three-eighths-mile track with both the World of Outlaws and the UNOH All Star Circuit of Champions. His best finish with the All Stars on a track that size was a runner-up performance at Screven Speedway in Georgia, while with the World of Outlaws he recorded a fifth-place finish at Lawrenceburg Speedway in Indiana.
 
"Going to a track that no one has ever raced on before should help equal the playing field a bit," said Gravel. "The guys on the Outlaws tour are masters at most of these places, because they've been to them so many times. When we get to Stockton, we'll see how it compares to similar tracks we've been to and take it step-by-step. Hot laps will be important to getting a good feel for it."
 
Silver Dollar Speedway is a high-banked, quarter-mile bullring on the grounds of the Silver Dollar Fairgrounds. Gravel made eight starts on tracks that size in 2012, recording a best finish of third with the World of Outlaws STP Sprint Car Series at Limaland Motorsports Park in Ohio, during the Brad Doty Classic. The 20-year-old also raced with the series at Tri-State Speedway in Indiana. Gravel competed with the All Stars six times at Fremont Speedway in Ohio, last season, finishing among the top-10 in four of those contests at the quarter-mile.
 
"Chico is going to be completely different from Tulare (Thunderbowl Raceway) last weekend, but it's still good to have raced on a short track in California before going there," he noted. "Hopefully it suits my driving style and I can get up to speed pretty quick. We ran pretty well last year on quarter-mile tracks with the Outlaws and All Stars, so hopefully I can use some of what I learned in those races at Chico."
 
Entering this weekend's pair of races, Gravel is eighth in the World of Outlaws STP Sprint Car Series standings, just 20 markers out of the top-five. He has four top-10 finishes in eight starts with the series in 2013. In the first five races of the West Coast swing, he has three top-10 finishes, all of which have come filling-in for Rose.
 
"Every time we hit the track we seem to be getting better," said Gravel. "Having the experience that Tyler (Swank-Crew Chief) and Bill (Rose) have is definitely a plus. They both have been to Chico quite a few times and know what it takes to get around there. We showed last weekend what we are capable and that gives us some confidence and momentum going into this weekend."
 
Keep up-to-date with David Gravel and DDR Motorsports by visiting www.DavidGravel89.com. Follow David on Twitter@davidgravel89g and like David on Facebook.